Mansinam Island in Manokwari City, West Papua Province
---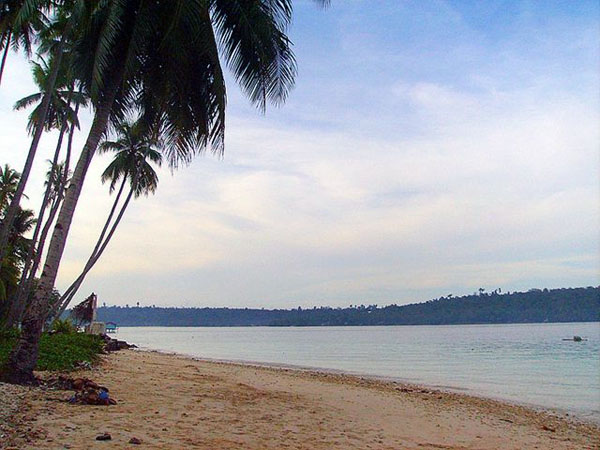 West Papua Province and Christianity are related to each other. Some missionaries came to Papua Island and taught local people regarding the religion. Not to mention they introduced modern culture to those people. It happened about 160 years ago. In order to retrieve such kind of history, people constructed a monument in Mansinam Island. Today, the island becomes a popular vacation destination in West Papua Province. The location is in Doreh Cape, which is situated near to Manokwari City. Not only it holds an important history, the island also offers pristine nature with a stunning beach.
The Nuance
Mansinam is an inhabited island, as there are about 800 people living there. In terms of nuance, it is comfortable and peaceful. Thanks to the presence of coconut trees and lush vegetation in any parts of the island. As mentioned before, there is a cross monument there. The location is near to the beach. The size is small, though. Many people come to the memorial site for pilgrimage and learn the history of West Papua's first Christianity teachings. When it comes to facilities, the island is lacking good accommodations and services. Though, the beauty of nature is second to none.
Exploring Mansinam Island
It is true the cross monument becomes a primary attraction in Mansinam Island. However, many other lures are available in Mansinam. For instance, there is a reminiscence of a church, which was built by the first priests in West Papua Province. There is nothing much left, but it is worth a visit. Near to the location, there is an old well. This was built to provide fresh water to local people. The fact is that the well remains in a good condition until now. It becomes the part of the history of the entry of Christianity in such province.
Next, tourists should head to the hill. It is the home of the Statue of Christ that has an enormous size. The government constructed the statue in order to commemorate the history of Christianity in West Papua Province. That means Mansinam Island becomes the representation of it. At glance, the figure is similar to that of Rio de Janeiro in Brazil. Though, the size is way much smaller than that giant figure. As part of Mansinam Island, it attracts more visitors over time. No wonder, the island becomes more popular, especially among Christians.
A simple and small island like Masinam becomes an attractive location to visit these days. Thanks to the historical value. It's such a waste if tourists don't drop by on the island when visiting Manokwari City. Apart from the history, Mansinam Island also offers a peaceful and lush nature. That means it can be a good location for relaxing and family outing, as well. Overall, no one would regret visiting the island.
Nearby Attractions
Doreri Cape
Manokwari City
Gunung Meja Nature Park
Arfak Mountains
How to Get There
First, travelers need to head to Manokwari City. It is reachable using an airplane to Rendani Airport. Next, they need to rent a speedboat and head to Mansinam Island. It takes about 15 minutes to reach the site. Not to mention the rent fee is affordable.
Where to Stay
Aston Niu Manokwari Hotel
Mansinam Beach Hotel
Mutiara Hotel
Aries Hotel
Mokwam Hotel

Latest News
Weriagar is a district located in Teluk Bintuni Regency, West Papua Province, Indonesia. The staple food of the local Weriagar community is Papeda. Papeda is made from sago cooked in boiling water on a stove until the dough looks like glue. Papeda is delicious eaten with fish in soup. Sayur bunga pepaya (papaya flower bud vegetables) and tumis kangkung (stir-fried water spinach) are often served as side-dish vegetables to accompany papeda. On some coasts and lowlands on Papua, sago is the main ingredient to all the foods. Sagu bakar, sagu…
---
Tanjung Kasuari beach is located in Sorong city, West Papua. This tourism object is becomes one of the most visited tourism objects in Sorong and it has been visited almost everyday. It located around 7Km from down town of Sorong city, and it can be reach by using private vehicle or public transportation. The nuance in this beach is windy and it has white sandy  path along the beach, the clear water and coconut trees along the area. It so refreshing and tropical alike.  Moreover, the visitors can enjoy the sunset…
---
Nusrowi Island is located on the west of Rumberpon island, Wondama Bay district. This small island has an area of ??approximately 4 hectares and surrounded by shallow waters and filled with coral reefs and many species of ornamental fish. You can also see other marine commodities like grouper, sea cucumbers and lobsters. In this place you can do your favorite activities such as diving, coral reef observations and fishing; to get to this place from Ransiki to a location, we can use a longboat which takes about 1.5 hours. www.Indonesia-Tourism.com
---
Fak Fak This district is famous for the agriculture plant of nutmeg, which make this city known as "Kota Pala" or the city of nutmeg. Fakfak regency is one of the oldest cities in Papua, with a high civilization. Historically Fakfak was a significant port town, being one of the few Papuan towns that had relations with the Sultanate of Ternate, being bound to it. The Sultanate later granted the Dutch colonial government permission to settle in Papua, including in Fakfak. The Dutch began the settlement in 1898. The town…
---