Diving Range in Raja Ampat
---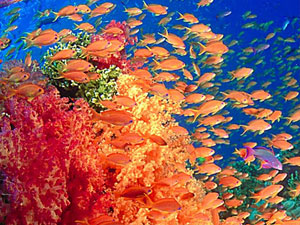 Talking about Raja Ampat, is definitely talking about the home of the divers. By having 50,000 sq km wide, Raja Ampat is a very huge area to be discovered.
It has hundreds of islands and an astounding diversity of habitats, which translates to wildly different diving experiences from pelagic drift dives to special dive habitat in Raja Ampat such as clear water mangroves with corals growing right next to them. There are thousands of potential dive sites in here, and the exploration will still continuing, and on every trip there are chances for new and amazing discoveries.
Dive sites in Raja Ampat Island are mostly situated near Waiwo, about 10 minutes away by speedboat from Waisai, The Raja Ampat Regency City, which consists of:
Kri Island: Kri has several sites and Cape Kri is one of the area with most fishes. The fish numbers and variety are truly amazing. The site is current dependent. Generally it's a steep slope with beautiful coral growth, lots of reef and schooling fishes, including the giant Queensland Grouper.
Sardine Reef: Sardine Reef has really giant clams at 10m (33ft) but it's all about non-stop fishes here. There's a resident school of bumphead parrotfish in the shallows, colorful soft corals and plenty of critters.
The Passage: This is a drift dive through a narrow channel near Waigeo. Look for archerfish among the mangroves, orange cup corals, seahorses, and percula clownfish.
Fam Island: Several sites near Fam have stunning coral growth. Sponges and soft corals add color and fishes keep it going. Sites include walls, sloping reefs, and muddy bays.
Misool: Misool is awash in fish life and huge sea fans. Caverns and boulders mark several sites. The schooling fishes seem endless and pygmy seahorses live in less than 10m (33ft). Some sites are current dependent.
Kaboei Bay Rock Islands: The bay is a labyrinth of rock islands. Visibility isn't great but this is a great place for macro and finding odd nudibranches, mollusks and the pictured dragonet. Bat caves and skeletons are found on some of the islands.

Latest News
Weriagar is a district located in Teluk Bintuni Regency, West Papua Province, Indonesia. The staple food of the local Weriagar community is Papeda. Papeda is made from sago cooked in boiling water on a stove until the dough looks like glue. Papeda is delicious eaten with fish in soup. Sayur bunga pepaya (papaya flower bud vegetables) and tumis kangkung (stir-fried water spinach) are often served as side-dish vegetables to accompany papeda. On some coasts and lowlands on Papua, sago is the main ingredient to all the foods. Sagu bakar, sagu…
---
Tanjung Kasuari beach is located in Sorong city, West Papua. This tourism object is becomes one of the most visited tourism objects in Sorong and it has been visited almost everyday. It located around 7Km from down town of Sorong city, and it can be reach by using private vehicle or public transportation. The nuance in this beach is windy and it has white sandy  path along the beach, the clear water and coconut trees along the area. It so refreshing and tropical alike.  Moreover, the visitors can enjoy the sunset…
---
Nusrowi Island is located on the west of Rumberpon island, Wondama Bay district. This small island has an area of ??approximately 4 hectares and surrounded by shallow waters and filled with coral reefs and many species of ornamental fish. You can also see other marine commodities like grouper, sea cucumbers and lobsters. In this place you can do your favorite activities such as diving, coral reef observations and fishing; to get to this place from Ransiki to a location, we can use a longboat which takes about 1.5 hours. www.Indonesia-Tourism.com
---
Fak Fak This district is famous for the agriculture plant of nutmeg, which make this city known as "Kota Pala" or the city of nutmeg. Fakfak regency is one of the oldest cities in Papua, with a high civilization. Historically Fakfak was a significant port town, being one of the few Papuan towns that had relations with the Sultanate of Ternate, being bound to it. The Sultanate later granted the Dutch colonial government permission to settle in Papua, including in Fakfak. The Dutch began the settlement in 1898. The town…
---