Culture in Raja Ampat
---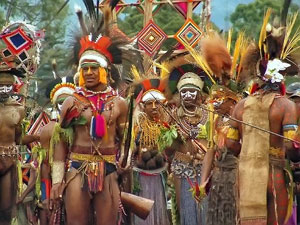 Raja Ampat area is officially located in Papua island, where there are numbers of uniqueness lay within, start from the natures to the ancient cultures and relics, in relation to the history of the origins and existence of the Raja Ampat society.
Among the society of Raja Ampat, there is traditional dance originating from a region that today is Kabare District, North Waigeo, which called as Bintaki Dance.
This dance started when a gentleman named Jober Maray, heard a group of people singing of Bintaki songs in the forest, the rhythmic voice is Biya Shell (shellfish) and the cheers of a group of people.
Mr. Jober then continue its efforts to catch fish with root mash Bore (a kind of poisonous plant roots) while enjoying the sounds he heard and joined the dance to the rhythm until the foam out of the root Bore, which used to poison fish in the Kali Kui. Currently, the Kali Kui has become a nickel mine operated by PT. Karunia Alam Waigeo.
Beside Bintaki dance, there is also Wor dance and song. This traditional dance and song is one of the traditional dances that also popular in Raja Ampat. The dance and song is coming from the ancestors who came from Biak Island.
Wor dance and song was first presented by Beser Biak tribe as one of the dances in the traditional party to welcome kings or lords who visited the villages in the Raja Ampat Islands.
As other areas in Indonesia, before Christianity entered to Raja Ampat, people at that era has its own way to bury their dead families. It happened in Wawiyai village, and now becomes the village tour while in discover the Raja Ampat.
In this area (Wawiyai) was found many objects that are considered sacred and historic, such as human bones, beds (tomb), dishes and other household utensils which are trusted by the community of Wawiyai village as bones of their ancestors. Those heritages are also intersting to be explored, in case of historical knowledge.

Latest News
Weriagar is a district located in Teluk Bintuni Regency, West Papua Province, Indonesia. The staple food of the local Weriagar community is Papeda. Papeda is made from sago cooked in boiling water on a stove until the dough looks like glue. Papeda is delicious eaten with fish in soup. Sayur bunga pepaya (papaya flower bud vegetables) and tumis kangkung (stir-fried water spinach) are often served as side-dish vegetables to accompany papeda. On some coasts and lowlands on Papua, sago is the main ingredient to all the foods. Sagu bakar, sagu…
---
Tanjung Kasuari beach is located in Sorong city, West Papua. This tourism object is becomes one of the most visited tourism objects in Sorong and it has been visited almost everyday. It located around 7Km from down town of Sorong city, and it can be reach by using private vehicle or public transportation. The nuance in this beach is windy and it has white sandy  path along the beach, the clear water and coconut trees along the area. It so refreshing and tropical alike.  Moreover, the visitors can enjoy the sunset…
---
Nusrowi Island is located on the west of Rumberpon island, Wondama Bay district. This small island has an area of ??approximately 4 hectares and surrounded by shallow waters and filled with coral reefs and many species of ornamental fish. You can also see other marine commodities like grouper, sea cucumbers and lobsters. In this place you can do your favorite activities such as diving, coral reef observations and fishing; to get to this place from Ransiki to a location, we can use a longboat which takes about 1.5 hours. www.Indonesia-Tourism.com
---
Fak Fak This district is famous for the agriculture plant of nutmeg, which make this city known as "Kota Pala" or the city of nutmeg. Fakfak regency is one of the oldest cities in Papua, with a high civilization. Historically Fakfak was a significant port town, being one of the few Papuan towns that had relations with the Sultanate of Ternate, being bound to it. The Sultanate later granted the Dutch colonial government permission to settle in Papua, including in Fakfak. The Dutch began the settlement in 1898. The town…
---