Snorkeling in Kri Island, Raja Ampat Regency
---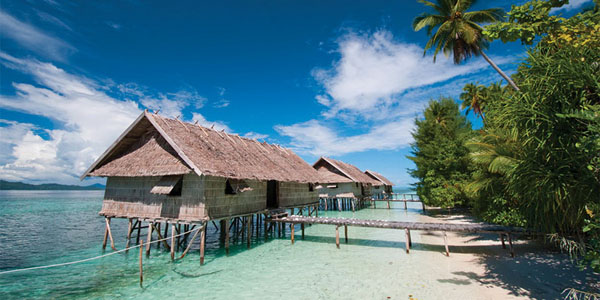 Both snorkeling and diving are quite challenging. The thing is people should find a good spot to conduct such activity before getting in the water. In Raja Ampat Regency, Kri Island becomes one of the best references. The location is in Meos Mansar District and it features lucrative corals and lots of fishes, which are worth an exploration. Not to mention the water offers top-notch visibility and moderate sea wave. Kri is located near to Mansuar Island, so it shares similar beauty and attractions. No wonder, tourists would visit both of the islands during their trip.
The Nuance
The size of the island is smaller than others. Most parts of it are covered by trees, as well. Fortunately, some beaches are available to visit, so tourists can enjoy numerous water sports like snorkeling and diving. Swimming is also possible, especially for beginners. The waves are not quite strong, in fact. Some diving spots are available near to Sorido and Kri Eco Resort. No wonder, these become tourists' favorite spots to either gather or go snorkeling. On top of that, the resorts provide a comfortable place to relax!
Exploring Kri Island
The best attraction in Kri Island is the formation of stunning corals. These are scattered all over those diving spots, so everyone can explore it easily. Apart from exploration, divers are allowed to take pictures of those corals. One thing, they should never damage those beautiful nature attractions. The local government has given more attentions to the condition of those corals due to the vandalism, which was done by bad people. This kind of prevention hopefully eradicates any irresponsible acts in the near future. Thus, more tourists would be able to enjoy pure nautical beauty in Kri Island.
The next activity is to visit a nearby village, which is called Yenbuba. Some villagers live there and they may introduce local culture to visitors. Actually, most of them live as a fisherman. The thing is they use a traditional method in catching the fish, which involves a spear. This kind of technique is called "Molo". Only the locals are able to perform it, as it requires both skills and experience. For tourists, such activity becomes a unique attraction when visiting the village.
As for the tips, tourists should have come with some money. They are going to use it to rent a speedboat, a room, and snorkeling gear. Not to mention it is useful for buying local foods. After all, it is a worthy vacation. Spending some money on a great adventure is worth a thousand experiences. In this case, Kri Island offers lots of values to visitors. Also, it is located to Mansuar, so people can enjoy two different islands simultaneously.
Nearby Attractions
Mensuar Island
Batanta Island
Waigeo Island
How to Get There
A trip to Kri Island is considered tiring and long, especially those coming from Jakarta. The first destination is definitely Waisai City's Marinda Airport. From there, travelers can continue the trip to Waisai Port. The last thing to do is to ride a speedboat to Kri Island. The location is near to Mansuar Island, so it is easy to reach.
Where to Stay
Sorido Bay Resort
Kri Eco Resort
Papua Explorers Dive Resort
Raja Ampat Biodiversity Resort

Latest News
Weriagar is a district located in Teluk Bintuni Regency, West Papua Province, Indonesia. The staple food of the local Weriagar community is Papeda. Papeda is made from sago cooked in boiling water on a stove until the dough looks like glue. Papeda is delicious eaten with fish in soup. Sayur bunga pepaya (papaya flower bud vegetables) and tumis kangkung (stir-fried water spinach) are often served as side-dish vegetables to accompany papeda. On some coasts and lowlands on Papua, sago is the main ingredient to all the foods. Sagu bakar, sagu…
---
Tanjung Kasuari beach is located in Sorong city, West Papua. This tourism object is becomes one of the most visited tourism objects in Sorong and it has been visited almost everyday. It located around 7Km from down town of Sorong city, and it can be reach by using private vehicle or public transportation. The nuance in this beach is windy and it has white sandy  path along the beach, the clear water and coconut trees along the area. It so refreshing and tropical alike.  Moreover, the visitors can enjoy the sunset…
---
Nusrowi Island is located on the west of Rumberpon island, Wondama Bay district. This small island has an area of ??approximately 4 hectares and surrounded by shallow waters and filled with coral reefs and many species of ornamental fish. You can also see other marine commodities like grouper, sea cucumbers and lobsters. In this place you can do your favorite activities such as diving, coral reef observations and fishing; to get to this place from Ransiki to a location, we can use a longboat which takes about 1.5 hours. www.Indonesia-Tourism.com
---
Fak Fak This district is famous for the agriculture plant of nutmeg, which make this city known as "Kota Pala" or the city of nutmeg. Fakfak regency is one of the oldest cities in Papua, with a high civilization. Historically Fakfak was a significant port town, being one of the few Papuan towns that had relations with the Sultanate of Ternate, being bound to it. The Sultanate later granted the Dutch colonial government permission to settle in Papua, including in Fakfak. The Dutch began the settlement in 1898. The town…
---