Raja Ampat District in West Papua Province
---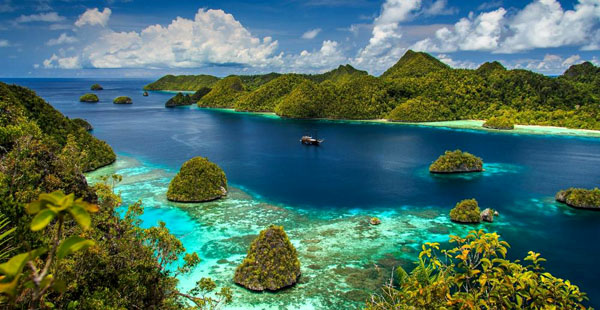 The east part of Indonesia offers lots of hidden beautiful places on which lush nature and majestic islands reside. Raja Ampat District is not an exception. It is located in West Papua Province and has gained better popularity these days (among travelers). Featuring tons of islands, tourists often come to the site to do island hopping and other fun activities like photography, honeymoon, nature exploration, and much more. The name means "Empat Raja" or Four Kings, actually. It is represented by its 4 major islands called Salawati, Batanta, Waigeo, and Misool. All of them are worth a visit, for sure.
The Nuance
The fact is that Raja Ampat was the part of Sorong District in the past. It became a new district since 2003 and offers a distinct tourist charm to everyone. According to the locals, there are about 30,000 people living in that region with their unique culture and local foods. Aside from those 4 major islands, there are about 610 more! However, only 35 of them are inhabited. Another fact is that the region consists mostly of the sea, which explains why lots of tourists are likely to enjoy diving there. The world even has acknowledged its nautical richness like hundreds of types of corals, mollusks, and fishes.
Exploring Raja Ampat District
Most of the travelers recognize Raja Ampat as an exotic vacation destination in Indonesia. It has a unique nautical beauty, on which tourists can explore. Some high-quality resorts are also available in the major islands and they offer a special diving package to visitors. During the high seasons or holidays, visitors might spend more than 2 weeks there. They want to explore the four major islands and try different spots of diving during the vacation.
Those diving spots always have visitors on a daily basis. Even the elders still have the passion for doing so. It is quite impressing as the locals also take a role in managing the resorts and other vacation spots in Raja Ampat. These people can also talk English so they are quite handy when it comes to gathering information related to nearby accommodations, tourist spots, and culinary. Tourists can hire a local tour agent if it is necessary, with an affordable price.
Diving is the best thing to do in Raja Ampat District, without a doubt. Some diving spots even feature historical ruins of the WWII! Though, visitors can do other things like sightseeing, island hopping, witnessing sunset, and get closer to the locals. The charm of the region has reached everyone' ears so more visitors are likely to come there in the near future.  Not only it offers nature beauty, but it also has an interesting culture, culinary, and history.
Nearby Attractions
Pianemo Island
Harfat Jaya Peak
How to Get There
From Jakarta, travelers need to take an airplane and head to Waisai City (the capital of Raja Ampat District). It takes about 2 days and 4 hours, though. As an alternative, they can visit Sorong City first before heading to Waisai. The trip is tiring, but it won't be disappointing.
Where to Stay
Waiwo Dive Resort
Waisai Beach Hotel

Latest News
Weriagar is a district located in Teluk Bintuni Regency, West Papua Province, Indonesia. The staple food of the local Weriagar community is Papeda. Papeda is made from sago cooked in boiling water on a stove until the dough looks like glue. Papeda is delicious eaten with fish in soup. Sayur bunga pepaya (papaya flower bud vegetables) and tumis kangkung (stir-fried water spinach) are often served as side-dish vegetables to accompany papeda. On some coasts and lowlands on Papua, sago is the main ingredient to all the foods. Sagu bakar, sagu…
---
Tanjung Kasuari beach is located in Sorong city, West Papua. This tourism object is becomes one of the most visited tourism objects in Sorong and it has been visited almost everyday. It located around 7Km from down town of Sorong city, and it can be reach by using private vehicle or public transportation. The nuance in this beach is windy and it has white sandy  path along the beach, the clear water and coconut trees along the area. It so refreshing and tropical alike.  Moreover, the visitors can enjoy the sunset…
---
Nusrowi Island is located on the west of Rumberpon island, Wondama Bay district. This small island has an area of ??approximately 4 hectares and surrounded by shallow waters and filled with coral reefs and many species of ornamental fish. You can also see other marine commodities like grouper, sea cucumbers and lobsters. In this place you can do your favorite activities such as diving, coral reef observations and fishing; to get to this place from Ransiki to a location, we can use a longboat which takes about 1.5 hours. www.Indonesia-Tourism.com
---
Fak Fak This district is famous for the agriculture plant of nutmeg, which make this city known as "Kota Pala" or the city of nutmeg. Fakfak regency is one of the oldest cities in Papua, with a high civilization. Historically Fakfak was a significant port town, being one of the few Papuan towns that had relations with the Sultanate of Ternate, being bound to it. The Sultanate later granted the Dutch colonial government permission to settle in Papua, including in Fakfak. The Dutch began the settlement in 1898. The town…
---